Learning Resource Centre (LRC)
Here at Strood Academy, we are proud to have a library and learning resource centre equipped with the best resources to enable our students to better themselves in both their learning and in their own personal lives. It is run by our new librarian, Ben Tillbrook, who joins us from the editorial department of one of the major UK publishing firms (translation: he really really loves his books!) and a previous background in education. 
Currently in our LRC, we stock over 7500 physical and online resources covering all manner of subjects and genres, with an aim to always encourage students to challenge themselves to find their next favourite book. We also host a wide array of non-fiction titles, paying particular attention to linking in to their subject specific learning, to enable all our students to build their own base of knowledge outside of lessons as well as in. 
Magazines and Modern Foreign Language texts are not forgotten either as we subscribe to many requested by the students (Horrible Histories, National Geographic, etc.) and have an ever-growing stock of physical texts written in French and Spanish to challenge our students to apply their language learning in a practical way for enjoyment. 
Our computer suite, Kindles and healthy supply of laptops (all bookable by students) help to round off our collection, enabling students to carry out effective online research, complete AR quizzes and access our brand new online library myON from within school as well as at home. MyON bolsters our collection with an additional 5500 titles, all available with enhanced audio read-along and annotation capabilities, to further enable our students to improve their reading no matter where they are.
Borrowing books during COVID
As a school we are taking every measure we can to reduce the spread of COVID-19 amongst our staff and students. This is no different in the library where all our books are being quarantined for 72 hours before and after they have been circulated to ensure that all traces of the virus, should they be found, have sufficient time to die off before the book can re-enter general circulation. Our librarian is also taking every measure possible to ensure that any exchange of books remains contact free by using drop off and pick up points and always wearing the appropriate PPE at all times.
If you would like to know more about the steps we are taking to ensure that our resources continue to be circulated in the safest way we can then a complete guide can be found here.  
Any other questions. . .
If you do have any other questions, queries or, would even like to suggest a book you feel we should have in the library then please do feel free to contact our Learning Resource Coordinator at ben.tillbrook@stroodacademy.org
Accelerated Reader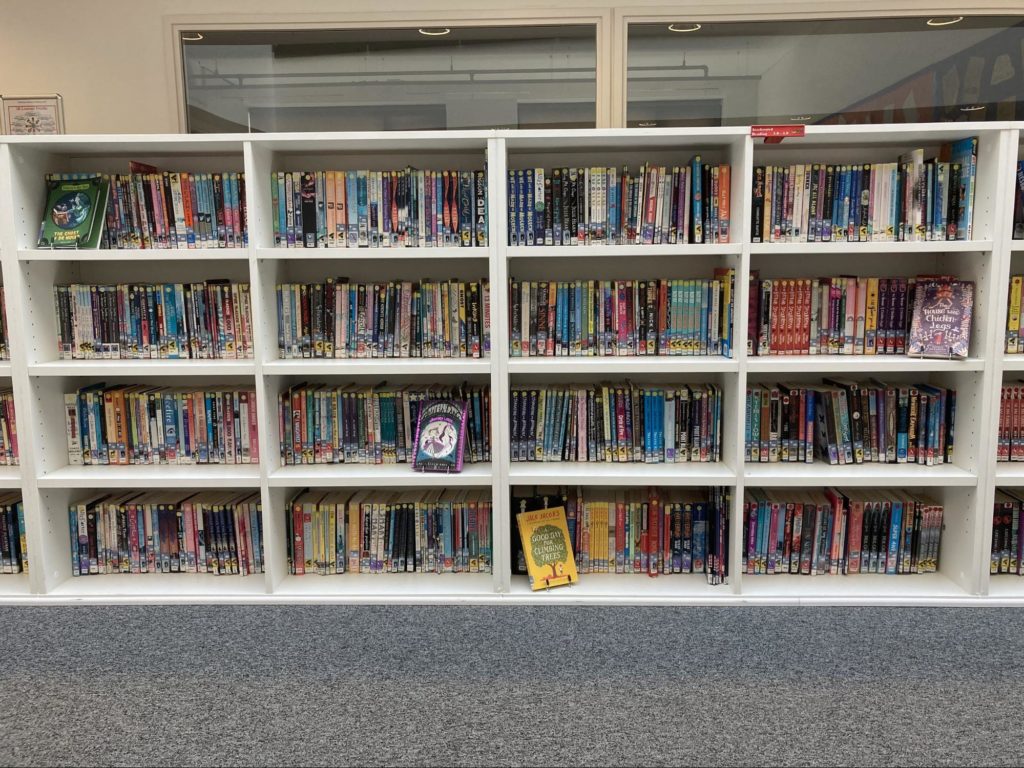 The Accelerated Reader Programme, or AR for short, is another way we aim to improve literacy amongst our students here at Strood Academy. The programme begins with STAR testing in Year 7 where students go through some basic tests to establish their current reading ability and ends with the test generating their own reading score. 
Students then have the choice to match this score to the books in our library, as well as our online library myON, to ensure that they are reading at the correct level in order to enjoy what they are reading and to challenge themselves to improve going forwards. Every book in our library comes complete with a coloured sticker and label to help guide students to their correct reading range.
When a student finishes a book, they will need to log into a library computer to complete that book's matching quiz. Passing these quizzes tells us if a student is understanding what they are reading and helps us to know when they are ready to move up to the next reading level. 
If you would like to know more about the Accelerated Reader Programme, then further information can be found in this guide for parents and guardians. 
myON – Online Reading Library
What is myON?
myON is our new, online digital library that will allow you to access thousands of books, graphic novels and news articles from home and at school. All of these resources come equipped with audio read-along, annotation capabilities and the opportunity for many to be translated and read in Spanish.
myON also has the capability to link in with our Accelerated Reader programme to help further support your literacy development by guiding you to titles which will help to challenge your reading comprehension. A guide on how to link these programmes is below. 
Logging into myON
myON can be accessed by clicking here or by going to myon.co.uk
Your username is the first part of your email address – _______@salearner.org.uk
Password: MyONstrood
When you log in for the first time, you may want to add your interests so myON can recommend books it thinks you will like. 
Watch this video to learn how to use myON at home. 
Year 7 & 8 ONLY – How to link your Accelerated Reader account
myON can also link to your Accelerated Reader account so that myON knows your ZPD score. It uses this to recommend books that it knows you will be able to read, as well as some that might challenge you a little too.
To do this, click on the orange 'Connect Now' button just below the 'Power Up Your Reading' section on the homepage.
Any issues:
If you do have any problems with myON, or if you'd like some recommended reading, then please contact me at ben.tillbrook@stroodacademy.org 
For parents and guardians:
If you would like to know more or try out myON for yourself then we have set up an account specifically for Strood Academy parents to use. This can using the login details below:
https://www.myon.co.uk/login/index.html  
School Name: Strood Academy (please select from the drop down prompt)
Username: SAPar
Password: SAPar
Please note that this account functions in the same way that a Year 7 account would and so any reading completed or annotations made will feed through to the school in the same way.